There once a 1.7-acre piece of land lived a 5-bedroom mansion in the most serene of places more like a little paradise down on earth. The grass was green and lush the garden was mature as they call it. Down a concrete walkway stood a bamboo bridge amongst a bamboo forest underneath ran a little stream big enough to be noticed loud enough to hear the sound of water rushing over the rocks. The perimeter wall enough high enough to fly over and thick enough to only but wonder what hidden treasures lay beyond. Hidden in a canopy of probably 100-year old trees are a 5-bedroom house; a pool house; a separate compound 2BR Guest wing; a solar heated swimming pool and of course detached servant's quarters.
They must have lied when they said there's nothing new on the face of this earth; well even mornings are new you know, brand new for that matter. Stepping into 'Ordep's' house was new to me. Deep hues of white and brown flooded the rooms. The sunken lounge with wooden laminates flooring was scattered with rustic wooden furniture. Something about color brown; it captures your mind like no other. Whether its depth or richness or strength I cannot tell. The wooden beams ceiling levelled enough to marvel at. The kitchen  is open plan with an island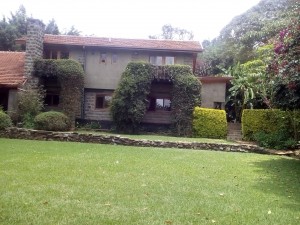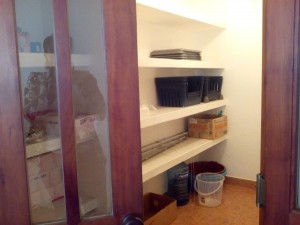 big enough to cook and dine away into the night. There after head into the sound proof theater for a quick RomCom.
The wooden staircase leads up to the upper level hosting the attic and 2 bedrooms all en suite with private balcony. The floor to ceilings windows would sure let enough light and sunshine when you need it most in the mornings. Not to mention lots of fresh air to clear the mind. THE MASTER BEDROOM: A master on its own especially when talking of a bulletproof safe which can hold up to 10persons and keep you safe and sound for the next six hours. How about that?
For the bonus: the guest wing has its own separate compound; the pool house has sauna, steam room and gym. It is a beautiful place to say the least. More beautiful when you call it home. Home to your family Home when friends come calling Home you can retire bury yourself look upto the Heavens smile and nod your head in delight.
PS: If you are a green building/ sustainability freak be pleased to know the premises are solar powered including the pool and electricity is backup. How green How cheap How environmental friendly.